The Search Awards began just under a decade ago when we detected a gap in the market for a truly outstanding celebration of the expertise, talent, and achievement of SEO, PPC, and content marketing agencies in the UK.
With the support of sector leaders, Don't Panic initiated the most respected national search award event in the UK, and since then has launched several other search events in different territories which have gone from strength to strength.
In the past few years, we have developed and defined the brand that we know and love today, and introduced the overarching brand, We Are Search, to truly become the International Voice of Search. We Are Search through and through.
2020 is the year of expansion. The We Are Search team have big plans, here's just a taster…
What's next for the Search Awards series?
New to 2020, we are continuing our expansion by launching the Canadian Search Awards and APAC Search Awards in their respective territories, as well as announcing the prestigious Global Search Awards, which celebrates the best of the best in search marketing across the globe.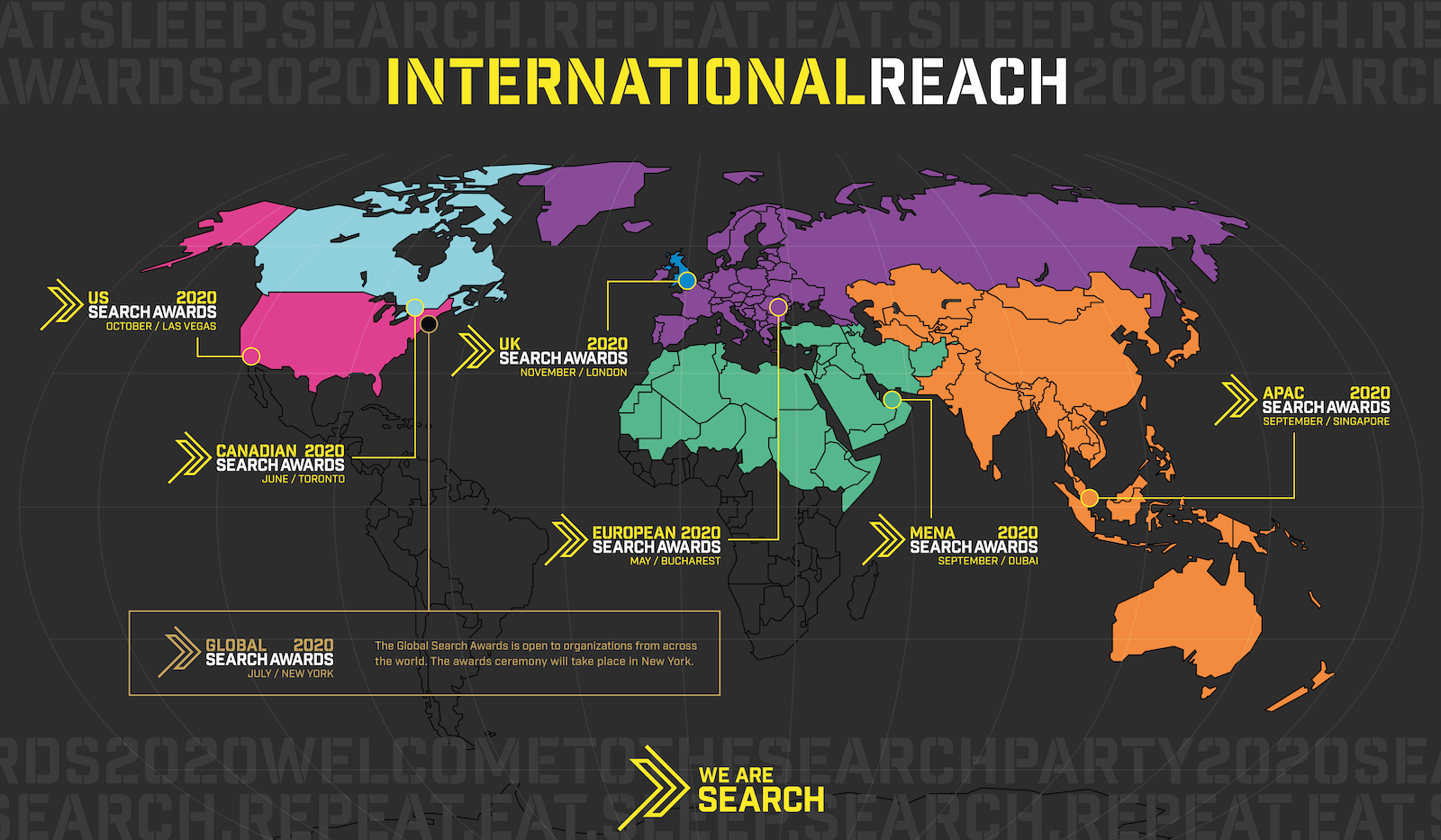 What's new to the awards process?
Each of our territories will have a newly-appointed head judge, an industry leading figure who has been previously involved in the Search Awards series and who understands the brand and morals we uphold. We pride ourselves on our highly ethical and transparent judging process – judges are not permitted to enter the Search Awards series and undergo a two-step judging process, which ensures a rigorous and fair result. The head judge will be responsible for overseeing the judging process and making sure the panel are undertaking their duties fairly and efficiently.
This year, we will also be providing feedback to all entrants, giving each entry one positive and one constructive comment from a member of the judging panel. Providing feedback is a crucial next step and will improve the quality and standards within the entries that are submitted in each territory.
How can you get involved?
Make sure you sign up to our newsletter here to get up to date news and announcements about the Search Awards series and the exciting announcements to come in 2020.
« Back to articles