We have to start with CONGRATULATIONS to all our worthy winners, it was a year of outstanding Search and you made it to the top! If you were on the shortlist, the judges want you to know that this was an impressive result too. If you didn't enter and are reading this, you really need to be part of the celebrations in 2022.
The European Search Awards 2021 were introduced by Nicky Wake, the founder of We Are Search. Nicky reminded us that the European Search Awards are 9 years old. She explained what inspired her to start the awards and why 'ethical, transparent, fair and trustworthy' are at the heart of the We Are Search philosophy. We took a visit down memory lane as we were reminded that in the past, live events took place in Budapest, Paris, Krakow and Berlin, to name just a few, and Nicky asked for event suggestions next year, as she promised, if it was possible, the European Search Awards would be live.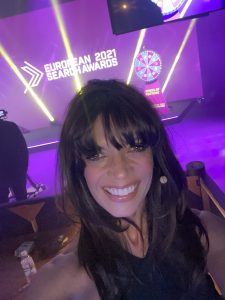 The European Search Awards Event
Jenny Powell was the most incredible host of the live, but virtual event and she spun her Wheel of Fortune with the finesse of an expert, she has not lost her touch! Winners of Wheel of Fortune prizes can expect them soon.
Judges nailed the feedback and award announcements, recording them remotely is not easy and we are incredibly grateful for their input and commitment to making the event so very special. Award announcement videos are available to winners and silver accolade stars if you would like to use them for marketing in the coming 12 months. Remember Award winners, win business! 
And the Social, well you did not let us down at #EuSearchAwards. We felt the love! Hide & Seek, your celebrations continue to make us smile, we were delighted to see that Bertie, Head of Turf Management at Aqueous Digital, was pleased with the win and best Gif to celebrate the win goes to Mihai Aperghis! Continue to use #EuSearchAwards and @eusearchawards as you promote your success for the rest of the year too please, we would love to see what you continue to get up to! We Are Search would love to share the success you achieve because of your win.


One last mention has to go out to the rocking Clint Boon @therealboon who ended the evening with floor fillers. If you were the one, shouting for more… we salute you. You have to make the (fingers crossed) live event next year and show us your moves!
The Award results have made changes to the We Are Search Top 100 Leaderboard – who are the movers and shakers? Find out here.
Read About What the European Search Awards Class of 2021 have to say about their wins…
« Back to articles