Your ad campaigns under control for free and effortlessly

Are you having trouble managing all your campaigns and those of your clients due to the overwhelming number of platforms and interfaces? Sometimes, managing an online campaign in various channels such as Google Ads, Microsoft Ads, Bing Ads or Facebook Ads, can be a challenge. Furthermore, jumping from one platform to another is complicated and confusing since each of them have different KPI's.
Due to this, managing advertising campaigns can often be cumbersome and overwhelming.
Don't panic though, we have the solution. What would you say if we told you that there is an integration that brings together all the most important metrics of your campaigns in one single customized report? Even better, what if we sent this report to your chat channel?
With Clever Ads' free integrations for Slack, Microsoft Teams and Google Chat Bot, you can control your spend, users, and all the metrics of your online campaigns from one place.
But… First thing's first!
What do these integrations do?
These three integrations will help you concentrate all the information of your campaigns and those of your clients for Google Ads, Microsoft Ads and Facebook Ads.
Slack, MS Teams and Google Chat Bot Integrations
Do you use Slack in your office to communicate with your colleagues and organize tasks? Do you manage better with Microsoft Teams because you have a lot of meetings? Do you use Google Chat Bot? Our tools have been designed to save you time, and allow you to choose the communication and productivity platform of your choice.
With our Ads Assistants integrations, as we like to call them, you will get benefits such as…
Saving time. Save your precious time by seeing all the most important Google Ads, Microsoft Ads and Facebook Ads metrics in one place.. Close some of those tabs!
Organizing your daily tasks more efficiently: with these integrations, you can access metrics, graphs, and alerts to evaluate the progress of your campaigns, all within your favorite communication channel!
Completely free of charge! Clever Ads, unlike other similar tools on the market, doesn't require a fee to use!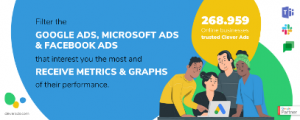 The best features of these integrations
These three tools will provide you with the same benefits. You will receive your graphs and metrics through the channel you choose.
What do you get from Clever Ads' integrations with Slack, MS Teams and/or Google Chat bot?
Metrics & Graphs
Metrics, data and graphs that display the performance of your campaigns (or those of your clients) on the most important online ad platforms we know: Google Ads, Microsoft Ads and Facebook Ads. We will help you understand the impressions, clicks, conversions or sales… All this through your favorite communication channel.
You can also request a graph to see the evolution of your preferred metric (impressions, cost, conversions, etc) of your selected advertising accounts. As the saying goes… a picture is worth a thousand words!
Scheduled Smart Reports
Have the choice to receive daily or weekly summaries, and make them public for your team to see – or for your eyes only. Below we will tell you what exactly smart reports are, what they are used for and why they are useful and interesting.
Tips & Tricks
We can provide tips on how to improve your online ads strategy upon your request. Not only that, but we can give advice on your campaigns such as adjusting the budget, modifying the target, and more!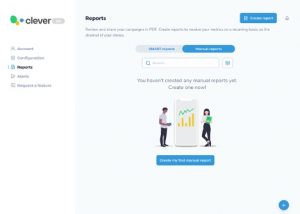 Smart Reports: what they are and what they are used for
Smart reports are fully customizable, more actionable, highly specific and relevant to you and your goals. They also feature fully actionable report automation and delivery features.
In these reports you will obtain detailed information regarding your conversion funnel (impressions, clicks, conversions, rates…) your ROAS, lost traffic, clicks by location, different keywords by quality score… And much more!
You choose the data, the format and the channel. You can decide if you want your Smart Report sent to your Slack chat, for example, in a PDF, or in an interactive PDF. Additionally, you can decide to receive these reports on your dashboard or downloaded locally, for example.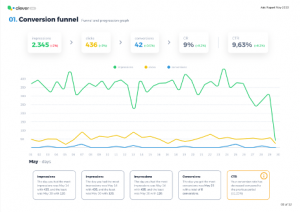 In addition, these reports include valuable insights such as tips on how to improve your metrics, links to articles with much more information and tips, links to other tools of interest… And much more!
---
Author: Luci, Content Manager at Clever Ads
Luci studied journalism, but soon realized that what she truly loves is writing content and SEO. Cat mom and burger lover, Luci is the SEO and Content Manager at Clever Ads #seo #content #marketin
Clever Ads, Sponsored the 2021 UK Search Awards
« Back to articles