Who are FATJOE?

Since 2012, FATJOE has provided thousands of agencies, marketing teams, and freelancers with outsourced marketing services, setting the standard for high-quality deliverables, leading turnaround times and unparalleled customer service.
Throughout a decade of growing their product offering, scaling their operations, and impressing their clients, they've become a brand recognised by all manner of marketing professionals for their consistency and reliability, while the competition acknowledges them as the blueprint for delivering outsourced marketing services.
Founded by former agency SEO experts, Joe Davies and Joe Taylor, the FATJOE journey began as a handful of ambitious marketers aiming to revolutionise the industry. Fast-forward to today, and that team has grown into tight-knit departments of long-serving employees and in-house specialists, alongside a dependable network of freelancers.
Together, this personable, knowledgeable and formidable team consistently operates and refines an innovative supplement for marketing projects worldwide. In both the US and UK,
FATJOE are a household name in the SEO industry, and continue to make waves in the wider marketing world with an increasing range of stress-suppressing products, helpful tools, and actionable content.
Why do people use FATJOE?
Working on a marketing campaign can involve a lot of tasks, a lot of people, and a lot of hassle.
In an SEO project alone, you need a wordsmith for your content, a developer to build and maintain the website, a strategist to oversee the project, and a lot of time spent on outreach. From recruitment, to management, to client or stakeholder expectations, and all the tasks along the way, it's very typical of marketing teams to feel snowed under, and for individuals to become burnt out.
Members of the FATJOE team know the challenges of managing marketing projects from first-hand experience, which is why they made it their mission to find an easier way.
From backlinks and keyword research, to blog writing and video production, as one of the world's largest providers of outsourced marketing services, FATJOE offer marketers itemised products in place of time-consuming deliverables.
With consistent quality and fast delivery, their product range provides agencies and marketing teams with a hassle-free solution for producing deliverables. The ordering process is seamless, the support is exceptional, and their content and tools are inspired by the inherent philosophy of making life easier for marketers.
With FATJOE's range of marketing products and resources, agencies can have the tools they need to scale operations, enhance project performance, and attain success with minimal stress.
How FATJOE can help attendees of the US and UK Search Awards
10 years ago, two SEO specialists set up FATJOE with the intention of making SEO scalable. Today, their team helps an array marketing professionals worldwide with a reliable solution for:
Building marketing channels
Scaling packages
Executing strategies
Clearing backlogs
Producing quality deliverables
Consistently supporting a constantly-evolving industry
Built upon a repeatedly proven foundation of rank-boosting backlinks and click-generating content, FATJOE's offering has gradually expanded over the years, with an increasing arsenal of marketing products now at the Search industry's disposal

On-Demand Link Building Services
Order à la carte link building services in minutes and receive within days, including:
Blogger Outreach
Niche Edits
HARO Links
Media Placements
Infographic Outreach
Content Syndication Multilingual Outreach
On-Demand SEO Services
Lay the groundwork for generating organic traffic with white label SEO services, including:
Keyword ResearchLocal
Citation Building
Press Release Distribution
On-Demand Content Writing Services
Create quality content quickly with affordable content writing services, including:
Blog & Article Writing
Website Copywriting
Press Release Writing
Product Descriptions
On-Demand Design & Video Services
Build a brand and accentuate your content with creative video and graphic design services, including:
Explainer Videos
Blog 2 Video
Video Ads
Infographic Design
Why FATJOE are excited to sponsor the US and UK Search Awards
At FATJOE we're thrilled to sponsor the UK Search and US Search Awards for a number of reasons.
As early adopters with a decade of industry experience we've seen the SEO sector thrive, taking strides forwards from the fledgling days of forum posts and black-hat tactics to today's legitimized and market-leading industry phenom.
Over the years, our products have changed in line with the development of the SEO industry as a whole. From humble origins focusing on solely backlinks, to today's varied multi-channel offerings, encompassing a broad range of content marketing and link building services, represents exciting growth across the board. We've had to evolve with the times and it has been so exciting to watch our clients do so and thrive!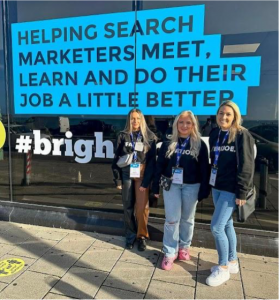 The UK and US Search Awards stand for the best the industry has to offer in terms of both service and innovation. SEO is the most dynamic and exciting branch of the marketing tree, and these awards offer the perfect opportunity to celebrate the companies doing the most to raise the standards for everyone, customers and agencies alike.
The rigorous and ethical approach of the judging panel ensures that the very best of the industry is celebrated, and we're delighted to be able to play a part in helping promote and support these awards.
« Back to articles